Since 2002
Teacher training
Core Dynamics Pilates Teacher Training was created by Michele Larsson in 1996 to carry on the development of the Pilates method by First Generation Teacher Eve Gentry. 
about Teacher Training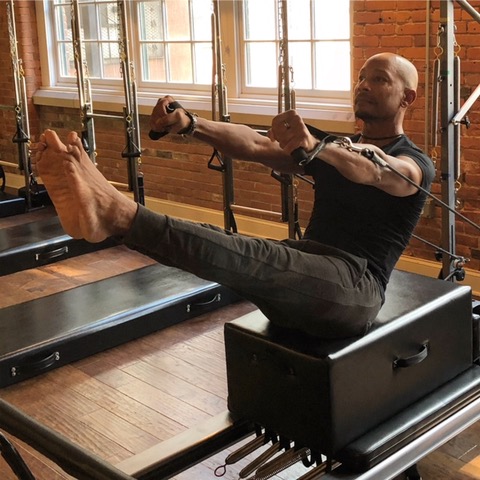 Teacher Training The Core Dynamics Pilates Teacher Training Program places its focus on developing students to embody the Pilates method, understand human movement and to teach the Pilates method correctly to a wide variety of clientele versus just teaching the exercises or just leading classes. Core Dynamics offers a specialized 'boutique' program rooted in historical Pilates, and updated with current safety, efficacy and bio-mechanic developments in human movement. We offer small class size, individual attention, mentorship experiences and a highly qualified affiliate studio network.
The teacher training program begins with CORE 101. This introductory Pilates training program training is appropriate for those interested in deepening and expanding their own Pilates practice or for beginning a path to become a Pilates teacher. This program consists of 5 intensives. The first two are conducted online through self study and private sessions so students can join the program based upon their schedule. Both of these initial two intensives include direct study hours with the program director Kevin Bowen. and includes required hours of personal practice, observation and student teaching. Video resources are provided as tools to log observation, and self-practice hours. These resources are available on demand so you can adjust the Program to suit your availability. Hours can also be directly logged at one of our Core Dynamics mentoring studios.
Upon successful completion of the CORE 101 Program and a passing score on both the practical and written test students will receive a certificate which qualifies them to teach the CORE 101 fundamentals, Beginner Intermediate Mat classes and Beginner Reformer classes.
The next and final step in our Pilates teacher training is the CORE Comprehensive Program or COMP. This portion consists of 6, 2 day intensives and covers a full syllabus of Pilates exercises on the Mat and all of the equipment.
As a student you will:
Learn the concept behind the Pilates system of exercises

Learn the historical Pilates exercise repertoire

Gain a foundation in seeing and correcting posture faults and movement limitations in your clients
---
Gentry Lineage Training
The Gentry Lineage training was designed for either comprehensively trained Pilates instructors with 3+ years teaching experience who wish to learn the Gentry approach to teaching the Pilates method or for Core Dynamics Pilates graduates wishing to refresh and hone their teaching skills. Group size is limited to 8 participants and takes place over 2, 3-day weekends. Teaching staff includes: Michele Larsson, Suzanne Gutterson, Debora Kolwey, Kevin Bowen.
Please contact us directly for more information and to apply for a position. This program is ONLY offered in Santa Fe, NM. Please refer to our schedule page for more information.
---
CORE 101 and CORE Comprehensive Overview

CORE 101 – 5, 10-hour intensives
CORE  101 – I– Fundamentals: +   History, Pilates philosophy & principles, introduction to teaching movement. Intro to special populations. 10 hours +
Private tutorials 3 hours – scheduled individually via Zoom
All online
CORE 101 – II – Pilates Mat:  Beginner/Intermediate Pilates Mat exercises, intro to group teaching skills & understanding human learning. 10 hours +
Private tutorials 3 hours – scheduled individually via Zoom
All online
CORE 101 – III – Reformer:   Beginner + Reformer exercises, intermediate group exercise teaching skills, planning Reformer classes. 10 hours
(private tutorials scheduled individually via Zoom depending on student)
10 hours 'LIVE' in a training studio and virtual
CORE 101 – IV – Pilates Equipment overview: Intro to the Cadillac, Wunda Chair & Auxiliary equipment as well as 5 Level I exercises on each of these equipment categories.  10 hours
10 hours 'LIVE' in a training studio.
CORE 101 V – Intro to one on one/duet training and lesson planning. Group (Mat and Reformer) and one on one teaching labs. Adjustments and modifications. 10 hours 'LIVE'
Ongoing throughout CORE 101:
•Weekly office hours set up in calendy online that all students can schedule to address needs and answer questions.
•Scheduled weekly student tutorials 'LIVE' online
CORE 101
Intensive contact hours 50
Observation hours 40
Personal practice hours 75
Assistant/practice teaching hours 50
Total 200
Intensive I cost is $625.00 and includes all materials.
Each additional intensive is $450.00 each.
CORE COMPREHENSIVE
The Core Comprehensive Program consist of 6, 2-day Intensives + additional hours for a total of 300 course hours or 100 per Intensive.
COMP I intensives A & B will cover: Exercises on Mat, Reformer, Trap Table, Wunda Chair, Spine Corrector, Ladder Barrel, Magic Circle, Ped-o-Pul, client assessment, introduction to program design. 

COMP II intensives A & B will cover–
Intermediate to Advanced exercises on Mat, Reformer, Trap Table, Wunda Chair, Spine Corrector, Ladder Barrel, Magic Circle, Ped-o-Pul, understanding the body in movement terms, honing teaching skills, advanced program design.
COMP III intensives A & B will cover – Advanced level exercises on Reformer, Trap Table, Wunda Chair, Spine Corrector, Ladder Barrel, Magic Circle, Ped-o-Pul, pre-cautions and contraindications for Pilates programming, client reassessment skills, Pilates professional practices, Core Dynamics advanced teaching skills. Integration and Development of Core Dynamics Pilates teaching technique. Hands on teaching labs with clients
---
Costs
COMP I A & B – $550.00 each intensive
COMP II A & B– $550.00 each intensive
COMP III A & B – $550.00 each intensive
 
Additional fees:
Online class subscription: (coming soon)
Final theoretical and practical Test Out – $250.00
Materials fees: $175.00 (Core Dynamics Manual, The Anatomy of Movement (book), muscle and bone charts,
To register for a training contact us directly or follow this link: Please go to the schedule page to view our schedule by location.
Initial CORE 101 online trainings are led by Kevin A. Bowen. The other training segments are led by our Educators at each of our locations or by Kevin in the Santa Fe studio.
You can contact the office directly either by email: info@coredynamicspilates.com or by phone: (505) 919-9593.
studio H0urs
By Appointment Only