All About Eve
Thank you to Michele, Suzanne and Debora for sharing their knowledge and  experience with all who were present for this special event. Special thank you to Patricia Hewitt from the New Mexico History Museum Fray Angelico Chavez History Library for her assistance in obtaining excerpts  of Eve Gentry's 1989 taped interview upon her induction as a Santa Fe Living Treasure.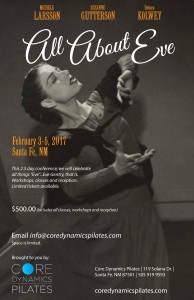 DATE CHANGE – For more information on our next years conference The Women – February 2 – 4, 2018 please email us at info@coredynamicspilates.com
We will have details on next year's conference up soon!
Come join us and stay for a visit in beautiful Santa Fe, NM
Santa Fe, New Mexico's capital, sits in the foothills of the Sangre de Cristo mountains, the southern most portion of the Rocky Mountain chain. The city is renowned for its Pueblo-style architecture, and as a creative arts hotbed. Founded as a Spanish colony in 1610, it has at its heart the traditional Plaza and is the oldest capital city in the United states.. The surrounding historic district's crooked streets wind past adobe landmarks like the Palace of the Governors, now home to the New Mexico History Museum – the Palace of the Governors is the oldest public building structure in the United States and has been in continuos use since 1610.
Kevin Bowen
Kevin travels throughout the US, Canada and Internationally delivering the Core Dynamics Pilates teacher training program and offering workshops and continuing education programs in the Pilates method and Human Movement.
Kevin will be traveling in 2017 to  Buffalo, NY, Santa Barbara, CA,  and China.
You can see more information about Kevin at www.KevinABowen.com
Michele Larsson
Michele Larsson offers workshops to Pilates practitioners concerning more complex physical issues and Pilates related topics.
Michele Larsson has designed these workshops around advanced techniques for identifying various physical limitations, using equipment, athletic enhancement and post injury/illness issues. CEC credits are available.
Contact the workshop host directly for additional information about specific dates, times and costs
Michele Larsson Workshop Schedule:
Peak Pilates Empowerment Summit – The Fifth Anniversary – June 1 & 2, 2017 – Miami, Fl.