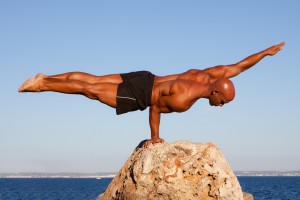 Balance or postural control, is the ability to maintain the body in either static or dynamic equilibrium with the center of gravity over the base of support (Magee 2007). Sounds so simple doesn't it – but the fact is that lack of balance in humans can be costly and deadly. It is estimated that by 2020 the national cost of falls related injuries will reach 43.8 billion dollars (Donatelli 2010).
For myself I recently discovered just how 'un-balanced' my own body actually is, esp. after a number of injuries which all occurred on the right side of my body – each injury by itself was not the cause – but rather the combination of 5 injuries took its toll. Further the risk of having balance problems increases as we get older. I even found myself beginning to have small changes in my thinking that my own imbalance was just a product of those injuries and age – and what I realized was what a 'negative' mind set this type of thinking could become in my life.
I also began to understand why so many older adults start to become terrified of falling and losing the ability to move and function. Keeping active and mobile is key to our functioning both physically and mentally – without balance we cannot function normally, just ask anyone who has ever had episodes of vertigo.
Balance also extends to other aspects of our lives – our mental outlook and quality of life, our nutrition, our spirit. Keeping balance in our life of work, recreation, relaxation and mental stimulation is essential. I recently heard a neurologists from Harvard speaking on a radio program about neurological issues of the aging process. He was asked 'if there is any one activity that we as aging humans could do to keep our brain healthy, active and functioning – what would you recommend? His answer – 'exercise and staying active'. So simple and so profound.
The good news is it's never too late. Check your own balance; here are a couple of simple tests.
1) Stand with one foot placed directly in front of the other foot and stay in that position for 10 seconds, then change feet.
2) Stand on one foot for 10 seconds, then change feet.
One should be able to perform these simple test quite easily and at will – and perhaps many can. However if you notice that even during these simple test that you have a bit of a challenge maintaining balance and being still then perhaps its time to begin adding balance training components into your regular routine. Even if you had no issues with these simple tests I would still recommend adding balance training components into your daily activity. Easily performing Activities of Daily Living (ADL) are a key measuring tool in determining how independent we are as individuals as we age.
Even in Joseph H. Pilates description of ideal health that he wrote about in 1945 he stated.  'Our interpretation of physical fitness is the attainment and maintenance of a uniformly developed body with a sound mind fully capable of naturally, easily and satisfactorily performing our many and varied daily tasks with spontaneous zest and pleasure.'